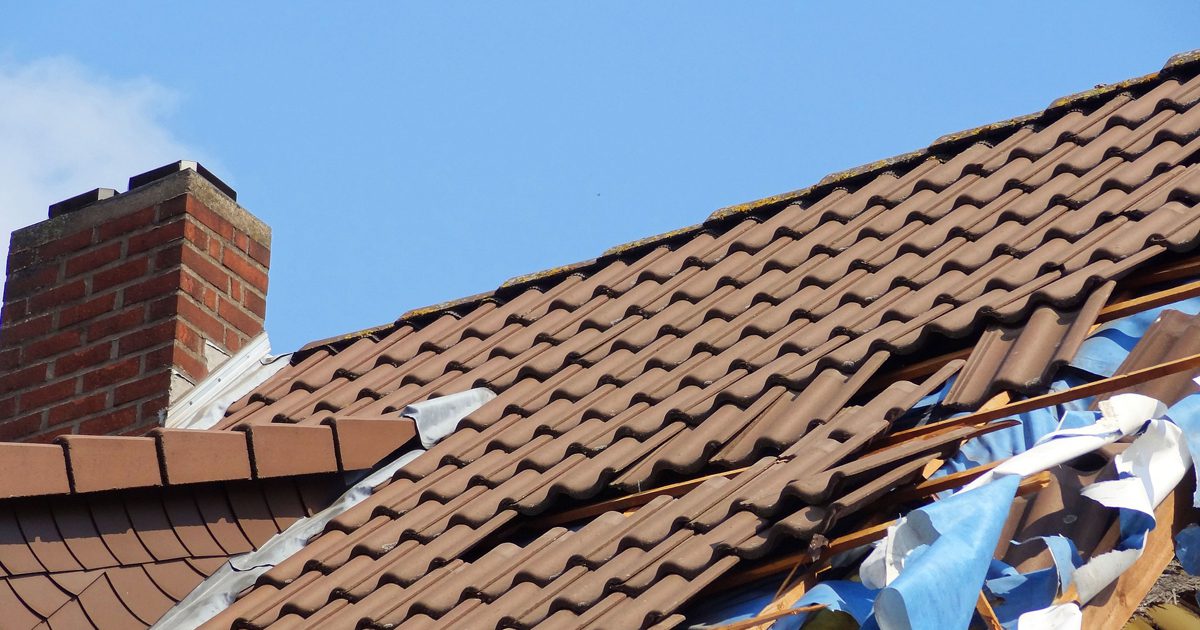 There are several natural disasters that can impact your home and especially your roof. 
Roof Hazards in Florida
Hurricanes  
According to NASA, "Hurricanes are large, swirling storms". They bring with them mass amounts of rain and winds between 74 and 157+mph. They usually form over oceans, as they need warm water and wind to be created. Once they hit land, they bring with them a barrier of water, called a storm surge. Storm surges and the amount of rain they bring in can cause severe flooding in areas near bodies of water. If a hurricane gets as strong as a category 5 hurricane, which has winds 157 mph or greater, it can cause catastrophic damage to trees, homes, structures and buildings.  
Tropical Depressions & Storms  
To understand Tropical Storms, you must understand what a Tropical Cyclone is; they are high-speed revolving storms that draw their energy from warm waters. If you think this sounds like a hurricane, you would be correct. Tropical cyclones begin as tropical depressions, then turn into tropical storms, and can eventually turn into hurricanes. The difference between all these cyclones is their wind strength. In the North Atlantica and Northeast Pacific, a depression is defined by having winds of 38mph or less. A tropical storm on the other hand has wind speed of 39mph – 73mph before turning into a category 1 hurricane.  
Tornadoes 
Tornadoes, like cyclones, are furious whirlwinds that contain dangerous winds anywhere from 65mph to over 250mph. It is not fully known how tornadoes are formed, but many spotted in Florida are thought to be connected to severe thunderstorms. Due to wind being invisible it can be hard to spot tornadoes until they pick up condensation, debris, and dust from their surrounding areas. Tornadoes can occur year-round in Florida; however, they are seen more in the summer and spring seasons.  
Wildfires 
Wildfires, according to the World Health Organizations, are "… unplanned fire(s) that burn in a natural area…". The main causes of wildfires are due to human endeavors or natural Phenomenon's, specifically lightning. Although the likeliness of wildfires in Florida are slim, they still occur and can be very deadly. Florida's fire season usually occurs between April and June, due to frequent thunderstorms and dry and hot temperatures.  
Floods 
One of the most common natural disasters to occur and cause severe damage in Florida; floods occur when there is an overabundance of water flowing onto dry land. Heavy rainfall (like hurricanes) or the breaking of dams and levees are both causes of flooding. Florida is more prone to flooding because they live on a peninsula, exposing Floridians to more coastline, increasing their chances of flooding. Flash Floods are the deadliest type of Flood, as they are like normal floods but work at speeds 10x faster. This occurs when the amount of rainfall outweighs the amount of water the ground can absorb and when creeks and rivers have nowhere else to allocate the excess water, so they cascade over the sides. This type of flood can happen within minutes, limiting many people to become fully prepared.  
 Florida storms can cause significant damage to your home and especially your roof. After any storm or other destructive occurrence, it's important to have your roof inspected by a qualified professional. Some damage is difficult to see and little problems can turn into big problem quickly. It's always better to be safe. Contact 3MG Roofing & Solar for a Free inspection today! 
Florida storms can cause significant damage to your home and especially your roof. After any storm or other destructive occurrence, it's important to have your roof inspected by a qualified professional. Some damage is difficult to see and little problems can turn into big problem quickly. It's always better to be safe. Contact 3MG Roofing & Solar for a Free inspection today! You can follow inclement weather by going to: https://www.nhc.noaa.gov/